If you read my blog regularly, you know that I am Roger Federer's biggest fan. Well, maybe his fourth biggest, after his parents and his girlfriend Mirka. But watching him play (and lose to) James Blake in the Olympics, I couldn't help but feel that his heart just isn't in the game right now. His body is capable, and his mind can still force the concentration, the will, and the skill to play at the top level. But there's always been something slightly fey about Roger, in the delicacy of his non-playing hand, his large dark eyes, and the refinement of his personality. Now, at 27, he seems at a crossroads. Will he pull a Borg, retire at a young age and fumble around finding his footing in life as a non player? Or will he be like Agassi, who stumbled in his mid 20s but reinvented himself, shaved his head, and remained a threat on the circuit for another decade, while doing great good with his non profit work? (But please, Roger, don't shave those gorgeous chestnut curls!)
There is a third route. Federer could retire from tennis and expand his role as UNICEF ambassador, throw himself into his charitable foundation, and become a force for good. Whatever he chooses, we wish him all the best!
photo from yahoo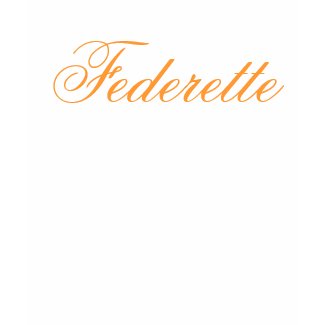 Federette
by

greenbaby

Design
Customized Shirt
At
www.Zazzle.com
See other
Sports Teams T-Shirts
Limited edition "I'm tomorrow's future" – the red t-shirt with the official claim of the Roger Federer Foundation. The proceeds from the sale of the shirts go into the Roger Federer Foundation.