(AFP/Glyn Kirk)
The problem with being Roger Federer is this: every time you go out on the court to play a match, the other guy is bringing his absolute best game. If you're Roger Federer, you cannot have an off day, an off match, an off minute because, since you are the GOAT (Greatest Of All Time), everyone in the tennis universe wants to beat you. For Federer, it might just be a first round match against a relative unknown, but for that relative unknown, it's the biggest match of their life.
And that's what makes champions better than you and me. I have off days, I have days when I can barely get out of bed. I have days when I can't finish the crossword puzzle or remember my boss's name. Roger Federer can't have those days. His mental discipline and mental toughness are his biggest assets.
So bring on Wimbledon, and remember...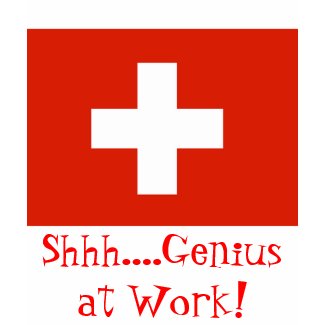 Shh....Genius at Work! with Swiss Flag
by
greenbaby