During the second Presidential debate, Mitt Romney claimed that when he was Governor of Massachusetts, he wondered if he couldn't find more qualified women for his staff.
BINDERS FULL OF WOMEN T-SHIRT
Quote: "And I – and I went to my staff, and I said, 'How come all the people for these jobs are – are all men?' They said, "Well, these are the people that have the qualifications.' "
Romney said he requested "a concerted effort to go out and find women who had backgrounds that could be qualified to become members of our cabinet."
"I went to a number of women's groups and said, 'Can you help us find folks,' and they brought us whole binders full of women," Romney said.
According to CNN, "Before the debate was over, there was a Twitter hashtag, a blog, a series of memes, and a Facebook page with over 100,000 fans. The phrase was the third-fastest rising search on Google during the debate." (source: CNN)
And t-shirts. And binders.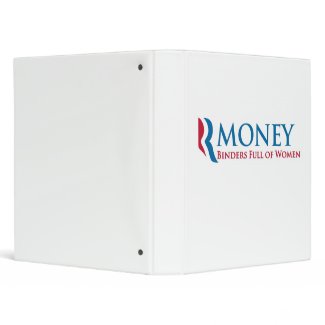 I'll add more as they become available.